Simple & Cheap Wall Art!
This crafty mom spent $3 at Staples for an engineer print of Ninja Turtle Lego pieces then mounted them on foam board. Perfect for just about any theme…just grab some toys & take pictures! You can see the whole makeover here.
Simple art with a giant impact!
This is one of those art projects that is truly simple to make & look just fantastic!
Get a little crafty!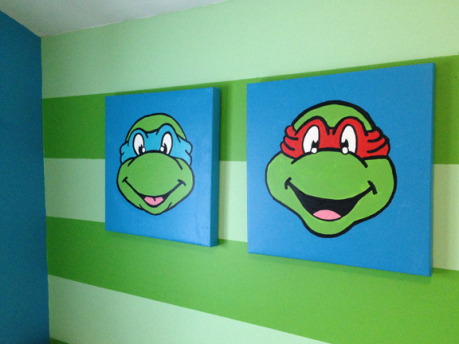 This awesome mom created a fun art display with her kids favorite characters, the directions are easy to follow & the end results is really cute! The paint job on the wall is pretty groovy for a ninja turtle room as well!
Trick out a dresser!
Kids want shiny new awesomeness…not your old beat up college dresser. But because they are total animals that destroy everything in their path that's what they are getting! No fear you can turn old dorm junk into fabulous ninja turtle coolness. You will just need paint, small wall decals and a bit of imagination!
Did you know sheets are great for making artwork? These groovy canvases were crated by simple wrapping sheets around unused canvases.
Using a cheap table Ana decoupaged a logo and painted a sewer lid! Check out her full remodel here…we were super impressed!