Kids love being creative & play tents are Awesome for pretend play! Whether you are looking for a simple no sew solution or a full on crafty project you can find some cool ideas that you & the kids can build together. We have a bunch of different options that can be indoors, outdoors or even as a permanent part of your kids room or play space. Personally I love the tipis but with a house full of boys you tend to lean with the crowd!
Get the kids off the couch & away from the TV with these creative projects the whole family can get involved with!
Are you ready to get started? Go find the kids & pick a project!
Make a Reading Teepee!
I really like the idea of this for older kids. the design look pretty fantastic & it's nice to make something for the bigger kids every now & then. You can make this of inside the house in a quiet area or even in the backyard for their own sanctuary. Kids love their own space & it will get them away from the TV!
There a fun DIY tutorial on the link below, plan on a couple of hours & make the kids help a little. it will be a blast! You can go nuts with the material so it can match any kids space or style, personality. I adore the crazy patterns like chevron or polka dots….but you pick what you like!
Make Your Kid Their Very Own Play Teepee!
This adorable play tent will need a bit of sewing, nothing fancy just straight lines! The total cost for parts is about $20 (unless you scavenge around the house for old stuff), Making this project much cheaper than store-bought variety. Per the directions it will take about 3-4 hours to build this.
Depending on what sheets you use this can go for either gender & be pretty customized. We have one similar to this that stays up all the time downstairs so the kids always have access to it. It's a bit big for their rooms (we have double occupancy around here) but if you only had one kiddo per room you might find it more doable for your family.
DIY Girly Play Nook
It's Fabulous!
If you have girly girls then this is one of those things they will flat-out adore! It is a no

sew

project & the hardest part is installing the bar on the ceiling. This will be a permanent install so you will need to find a groovy corner in the kids room or play room before getting started.
This one requires lots of imagination & can really be decked out to match your kids personal style & taste. Go with solid colors, a fun theme or an eclectic mess! You'll want the kids in on this project because they get to pick out the parts. I also recommend some white twinkle lights or theme light strands to help create this relaxation nook.
Two Little Hooligans Play Tent
This is a fun canopy tent that can be easily move around so on nice days to can take it outside for the kids. You could also mount this permanently in your kids space. If you live in an area with nicer weather you could leave this out in a special spot in the yard all summer. It doesn't take up much room & looks adorable.
You will need to do some sewing for this design. The design is flexible since you are using sheets so make a boy theme is as simple as buying different sheets. I'm sure most of us have all these parts lying around the house being unused…so go dig up some stuff before heading to the store. DYI projects are always better when they are almost free!
No Sew Kids Play Tent!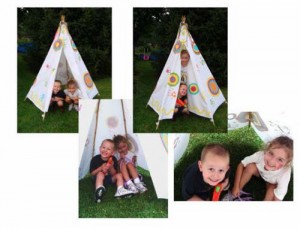 This one is not only simple it's flipping adorable!
Much of this project is going to be spent decorating your kids new tent. Plan on the kids getting really involved with this, use lots of bright colors & if you can have someone handy with a camera because this is going to be messy & fun! Defiantly a project for the old scrapbook. You'll need acrylic paint, felt or fabric markers to trick out the tent.
DIY Fort Kit Gift!
Make one for their friends too!
This isn't really much of a thing for you to build, this is a thing to give as a gift! It's full directions on how to make a kits DIY fort kit for about $13. It's perfect for any kid & of course you can be creative & go with either gender on this project. Action heroes or My little pony…just find the right sheets to match the theme you want!
Basically the kit comes with everything a kid will need to make their own fort & use lots of imagination. This is definitely on my must do list for the next kids party I go to!
Create a Custom Bed Tent!
Ok, this one is so easy it would be a shame not to try it! All you basically need is a couple of window panels & an embroidery hoop (there are a few more little parts too)! This could easily go around the bed or even make a reading nook with a chair inside it. No kid will be able to resist the cuteness of this fun craft project!
No sewing needed on this one & the skill level is super easy. The kids will have fun helping on this project. you should be able to do the entire thing in an hour.
Kids Reading or Play Tent
This fun project takes about an hour & can be made for less than $20. I assure you the kids will get plenty of happiness out of this project. The site features a full PDF of the instructions so you will be able to get going pretty quickly.
This will be something you keep up all the time in the kids room, it's really a cute idea! However if you just want to break it out for special days them it can fold up easily & be stored under a bed. Either way it's adorable.
DIY Clothesline Play Tent
This is the ideal solution for those parents like me that simple gets tired of the house looking like a war zone. This super witty mom installed a retractable clothes line in her kids play room & when they need a fort fix she can just toss in some sheets!
She went thru lots of trial & error so be sure to check out her directions before heading to the store.
Girl's Dreamy Teepee
This could be the most adorable frilly girls tent I have ever seen…infinity. First the possibilities on the colors are endless & second OMG it's so fluffy! You will definitely want to keep this inside most of the time & frankly I don't see how you could not leave it out in the room all the time. It's just so fabulous.
As you can imagine this is a sewing project & it's going to take some time. This is totally worth every second of effort & beyond cute!
Get the Directions Right Here!
Simple Play Tents
Kids aren't that picky…at least not when it comes to tents! This swanky little tent is great as it is or can have a sheet tossed over it. Just find some fabulous material & your well on your way to parent of the year! (yeah, play tents are really that cool.)
This is a sewing project so you should plan on a bit of effort…but it's a pretty quick project.
DIY Classic A Frame Play Tent
This cute little play tent is perfect for smaller kids, you can make an entire little set up in there!
The design is pretty simple & it's fairly easy to make. You just need some fabric & wood for this project. This one can go for either boys or girls, if you have both then go neutral on the color scheme.
PVC Mega Fort
This is one of those projects that you can either do simple or go all out & sew up the "tent" to make it look super finished.
The basic materials cost about $25. This tent will be great for active kids that are often running around. You could also leave the PVC base outside & just take the tent skins out on nice days. Skys the limit on this fun design.
FYI if you are going to be sewing this then buy some mesh & sew in some windows, kids gotta have windows!
No Sew Kids Teepee
Need a super simple kid play tent? Want something fabulous on a tight budget? This is the perfect DIY project for you & the kids, it's simple, cheap & looks amazing!
You can make this spiffy little nook for under $30 & it's no sew! This is the perfect solution to wanting great design & being on a budget. The end result is simply adorable. Swap the colors out to make a boys version!
DIY Drop Cloth Play Tent
Even Lowe's is getting in on this tent building craze! You can not only find these free directions handy but they also have a complete part list with all the proper part names…always good when going to the store!
This is a fairly simple design that will fold totally flat when the kids aren't playing with it. But be a little creative & get some paint on that drop cloth!